Exhibition
Entry to the exhibition
The following documents allow the entry to the CEDE 2015 exhibition
1. Free entry card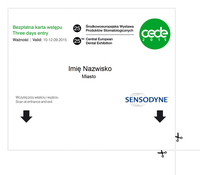 Free entry card generated form one account is valid for one person only. Lanyards and badges holders for free entry cards will be available in the Eastern and Western Entrances.



 2. Tickets to the exhibition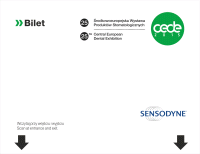 Visitors who have not generated free entry cards have to purchase the entry ticket at one of the ticket desks in the Eastern and the Western entrances to the exhibition.
Cash desks opening hours:
September 10-11, from 9.15 till 17.45
September 12, from 9.15 till 15.45



Ticket prices:
- 1-day ticket - after registration - 15,00 PLN
- 1-day ticket - without registration - 32,00 PLN
- 3-day ticket - after registration - 35,00 PLN
- 3-day ticket - without registration - 65,00 PLN
CEDE 2015 exhibition catalogue included in price of ticket. Lanyards and badges holders for tickets will be available in the Eastern and Western Entrances.

Children aged up to 14 - free entry, a one-day free ticket can be obtained from the Lobby Manager.

Organised groups can purchase a one-day ticket at a price of 10 zł per person after a list of the names and surnames of the participants of the group or the data of the institution are approved by the Lobby Manager  download the template of a list

3. Conference PTS@CEDE2015 participant ID