Exhibition
Grand Prix CEDE 2015
On 10th of September the Committee of GRAND PRIX CEDE 2015 in a secret ballot has granted the following awards:
in the category Clinical products for dentistry:
PIERRE FABRE MEDICAMENT for the product ELGYDIUM CLINIC MONO COMPACT

in the category Products, preparations and prophylactic equipment:
ELER/SUNSTAR GUM for the product SPRAY GUM HYDRAL

in the category Dental equipment:  
MAKROMED for the product CERTUS MAX DENTAL UNIT

in the category Laboratory equipment: 
ROKO Arkadiusz Rokosa for the product FURNACE PORCELAIN HELIOS
in the category Software: not awarded 

in the category Education and dental publishing:
GLAXOSMITHKLINE CONSUMER HEALTH CARE for the product DENTASSIST EDUCATIONAL PROGRAM

Verdict was presented by the President of the Polish Dental Association
Prof. Bartłomiej W. Loster
Reward Committee:
Prof. dr hab. Bartłomiej W. Loster - Chairman
Prof. dr hab. Barbara Adamowicz-Klepalska
Dr n. med. Andrzej Baszkowski
Ms Bożena Florczyk
Dr hab. Mariusz Pryliński
Prof. dr hab. Stanisław Suliborski
Prof. dr hab. Marek Ziętek

 
 See all products entered to the Grand Prix CEDE 2015

Grand Prix CEDE 2015 winners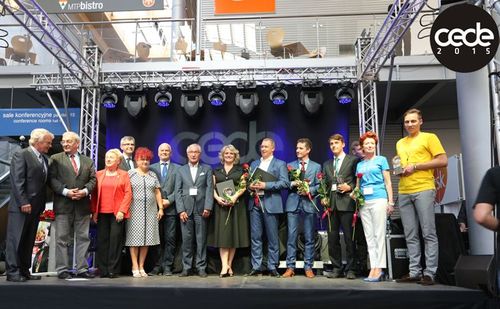 enlarge
GRAND PRIX CEDE 2015 PUBLIC CHOICE AWARD
Voting ended on Saturday, September 12, at 15:00 and company ELAMED MEDIA GROUP was awarded the Grand Prix CEDE 2015 Public Choice Award receiving 43% of votes.