CEDE in Poznań – the quintessence of an exhibition and learning combined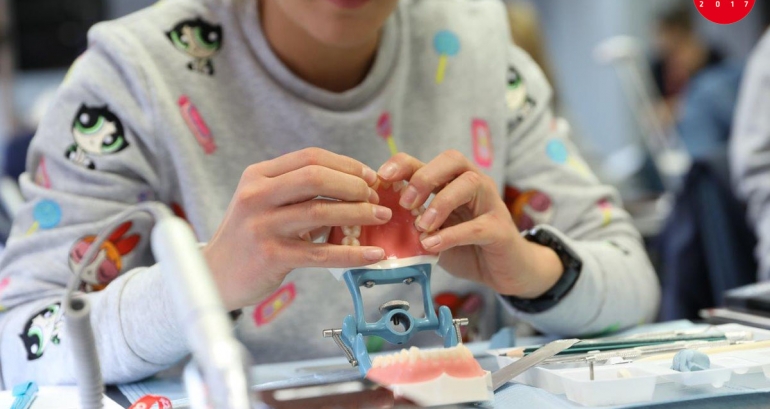 Preparations are underway for one of the most prestigious dental exhibitions in Central and Eastern Europe – CEDE 2018 (20-22 September). For the second time the exhibition of equipment, materials and instruments will be held concurrently with the Polish Union Dentistry Congress.
CEDE 2018 will mark the 27th occasion when devotees of modern dentistry will come together for this marquee exhibition. For the needs of the exhibitors, the organisers have reserved four pavilions at the Poznan International Fair, which will provide approximately 7 000 m2 of net exhibition space. In 2017 a total of 220, firms including 41 from outside Poland, showcased their products at CEDE. Last year, many of the leading market players made an appearance in Poznań. Over the course of three days more than 11,000 people visited CEDE, including guests from, among other places, Ukraine, Germany, Russia, Great Britain and Lithuania, Austria, Italy, Norway, Sweden.
CEDE 2018 will focus on the inseparable connection that exists between science and business, as is evident, among other things, in the programme of the Congress and the Speaker Corners agenda. CEDE 2018 will feature many lecturers whose names will already be familiar to those who frequent international congresses. Among speakers who have already confirmed participation are Jan B. Ahlqvist, Diego Lops, Miguel Roig, Carlos Fernandez Villares, Ezio Gheno, Angelo Troedhan, Gian Battista Greco, Hande Şar Sancaklı, Joseph Shapira, Hal Stewart.
The Congress Scientific Committee is chaired by Professor Marzena Dominiak, the President of the Polish Dental Association and a member of the FDI Education Committee.
The slogan adopted for this year's CEDE is "More than an exhibition". Over the years the organisers have managed to put together an exhibition that includes more and more elements with a real impact on the development of Polish dentistry and an increasingly integrated environment. During this year exhibition free oral cancer screening tests will be offered to Poznań residents, workshops on how to deal with patients with disabilities for dental practitioners and even a pool championship for CEDE participants. For the second time this year dental professionals will also have the chance to vote via internet for their favourite products in the "Stars of CEDE" competition.
Jan B. Ahlqvist (Sweden) - Learning radiology in simulated environments – Thursday, September 20th,
Diego Lops (Italy) - Esthetic restorative dentistry - in traditional or digital way? Two dental philosophies - different opinions and different solutions – Thursday, September 20th
Miguel Roig (Spain)- My new toys - introducing digital tools into my dental practice – Thursady, September 20th
Carlos Fernandez Villares (Spain)- Is it the time to use full digital dentistry in our offices? Do we need to forget classical procedures? Where is the truth? – Thursday, September 20th
Hande Şar Sancaklı (Turkey) - Caries-free life span. Prevention and management of caries through life-phases. Thursday, September 20th
Hal Stewart (USA) -  The magic, beauty and predictability of composite resins – Friday, September 21st
Alex Mersel (Israel) - Geriatric Dentistry: Limits for complete denture rehabilitation. Indications for alternative treatment – Friday, September 21st
Adriana Barylyak (Ukraine) - Using different types of lasers in periodontology. Treatment of periimplantitis – Friday, September 21st
Josef Shapira (Israel) - Multidisciplinary care for children with missing teeth – Saturday, September 22nd
Ezio Gheno  (Italy) - Advantages of CBCT and 3D imaging in implant therapy planning – Saturday, September 22nd
Angelo Troedhan (Austria)  - Cutting bone - what is the new Gold Standard? – Saturday, September 22nd