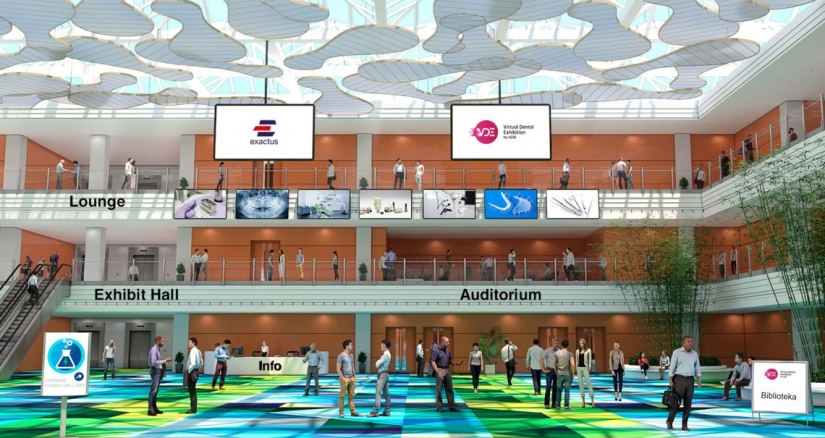 Ladies and Gentlemen,
we are pleased to inform that we are close to sharing the details of the unique project – Virtual Dental Exhibition by CEDE (September 24-26, 2020). Over the next two weeks we will provide you with the necessary information. Bear in mind that according to the concept, participation in VDE is free (standard virtual stand)* for registered exhibitors of CEDE 2020 (Łódź, December 3-5, 2020).
Today, as we want to inspire you to make the most of our virtual event, here is a handful of practical information and trivia.
THIS IS NOT ONLINE CEDE. VDE by CEDE is not a virtual version of CEDE. This is a unique project created in response to the difficult times the dental industry found itself in. Virtual fairs allow to maintain relationships with customers, support sales, enable education, and guarantee interaction in the virtual world which we are slowly getting used to. All this at a cost incomparably lower to traditional trade fairs. At the moment, it is a priority to everyone.
WE APPRECIATE THE EXHIBITORS. Let us emphasize what is already known – we guarantee CEDE 2020 exhibitors standard virtual booths. The offer encompasses confirmed companies, as well as those that will commit to us until August 31. VDE by CEDE is by definition a global project, so be mindful of the involvement of exhibitors and participants from around the world on equal terms. VDE by CEDE does not pose any obstacles to us.
TECHNOLOGY. We will use an external company tool to organise VDE. It is a professional, fully responsive platform for organising events in the virtual world. The exhibition will be held in English and Polish. We do not anticipate participation fees from visitors, though registration and logging in will be required. VDE graphics will refer to a traditional exhibition. Thus there will be pavilions outdoor views, a lobby, an information stand, graphically diverse booths, lecture rooms. Also games that encourage participants interaction.
VIRTUAL STAND. One can search for them from the list (subject matter, name, category, etc.), it may look standard or original, you can present products (with links to the store), but above all it should be operated by "live" people. Chat, webinars, video calls, group conversations – everything is possible here.
INTERNATIONAL RECOGNITION. VDE is not just a stand. Our offer includes the possibility of brand placement in the form of banners or educational projects. As part of the exhibition, we plan many company webinars, discussions and shows. It's the Internet, (almost) everything is to be designed.
CAN YOU GET ALONG? Of course, and we will help you with that. A press conference with platform presentation will take place in mid-May. Then we will invite exhibitors to technical demonstrations. Instruction videos will be available, and above all, US!
Summing up. Why VDE? In tough times, it is important to maintain customer relationships. When it is difficult to carry it out the traditional way, at fairs and congresses, let's do it in the virtual world. In three days, VDE will be visited by thousands of people from around the world. The platform has its limitations, but then human creativity does not.
read more at www.vcede.pl
*applies to stands of 9 sq. m and above (according to Rules & Regulations)