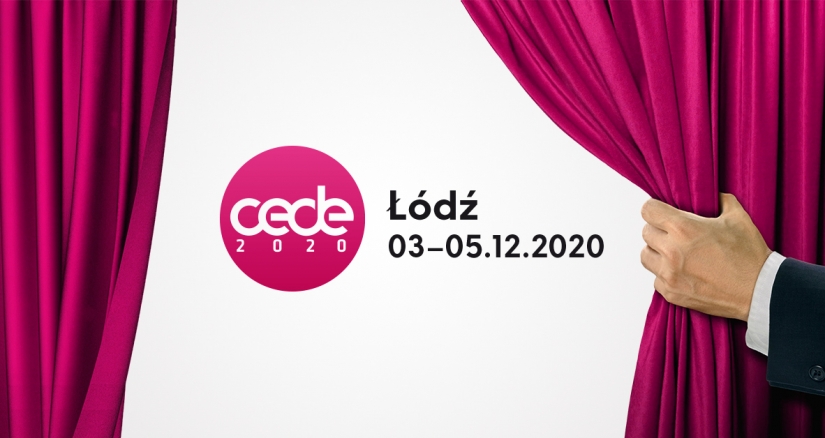 The Virtual Dental Exhibition in Poland – VDE by CEDE will take place in September, whereas traditional part December 3-5, in Łódź – this is the new plan of Central European Dental Exhibition organisers, as the economic slowdown reaches the industry.

Łukasz Sowa, managing director at Exactus, CEDE organiser since 1991

First of all, we would like to express great support to all members of the Polish dental industry. It is an unprecedentedly difficult time for everyone: manufacturers, distributors, service technicians, and members of dental teams. Nothing is more important than your health and sense of economic security. We keep our fingers crossed for everyone and believing that soon we will be able to shake hands and smile, just like that, normally.

Coronavirus brutally interrupts plans of many. The last months we have worked hard to propose a completely new format of the dental exhibition. We have created a concept in which each exhibitor can design their own CEDE, stand out effectively, convince themselves that you can participate in dental fairs in a different, non-standard way. We have prepared an attractive educational programme and a lot of projects supporting their development. We are proud of our work, we still believe that it makes sense.

We are aware that this is not the most fortunate moment for investment talks, but we want to assure everyone that we do think about the industry and try to prepare for the near future. Of course, no one can predict how long this situation will last. Therefore today, out of respect for our exhibitors, partners and participants, with full understanding of the current epidemic and economic situation, we are implementing "plan B" - to strengthen our hearts.


In September – the exact date will be announced shortly – we will carry out VDE by CEDE: the first Virtual Dental Exhibition in Poland, and maybe even in the world. Modern technology allows to implement this concept in other industries. The time in which we all found ourselves, gives hope that the idea that we have been analyzing for a while can turn out to be extremely successful. Dental industry is already deeply rooted in the internet, so why not a virtual exhibition? The costs of participating in such a project are negligible compared to traditional fairs, which in times of crisis is essential to everyone. What is important today, virtual fairs are easier to adapt to the economic situation and the industry calendar.

The first important news for all exhibitors who have confirmed their participation in CEDE 2020 is that standard participation in virtual exhibition will not involve additional costs. We will provide details of participation in such a formula to each individually. We already assure you that platforms for organizing virtual fairs offer many opportunities for brand and product promotion, online training and much more. You can successfully think of them as a sales platform. In addition, I think we can all have a great time during the VDE by CEDE. If this formula meets with a warm reception, we will continue it periodically. Of course, companies that have not confirmed participation in CEDE 2020 can also join the project. We will announce the rules soon.

The second important message - this time for everyone - we are moving traditional CEDE to Łódź. The event will take place at the EXPO facility December 3-5, 2020. We believe that optimism will return to the industry in the third and fourth quarters. In Łódź, endowed with sentiment by so many, we want to have a meeting that will let everyone forget about the difficult year. The current epidemic situation has not diminished our faith in what we have developed over recent months. During many conversations with producers and distributors, we have been asked about infrastructure in Łódź and the possibility of moving CEDE from Poznań to its roots. We were encouraged to make this decision, though we wanted to assure everyone the best conditions to participate in the project, which is what PIF guarantees. Given the completely new circumstances, we believe that all will fit in EXPO Łódź (put into use in 2012, over 13,000 sq.m with 5,700 sq.m of exhibition space + conference space), and the new location will allow everyone to save money. Of course, we transfer all registration and booking fees incurred to Łódź - for those interested.

We kindly ask exhibitors for a moment of patience to specify the details of cooperation. Our goal is the good of all, it is difficult to make promises today, but we are deeply convinced that our "plan B" makes sense and meets the industry's expectations. If necessary, we will adapt further ideas to the situation and needs.
FOR EXHIBITORS
CEDE 2020 exhibitors in Łódź (December 3-5) will additionally receive for free a standard virtual stand as part of the Virtual Dental Exhibition by CEDE (September 24-26). In case of cancellation from CEDE 2020 in Łódź, participation in VDE is paid.