New CEDE products by exhibitor name
HAPPYDENTAL Sp. z o.o.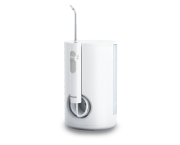 Panasonic EW-1611
Panasonic EW-1611 dental irrigator is the best supplement for your daily oral hygiene. Intense and precise stream (about 6.5 bar) ensures accurate cleaning of the interdental spaces and gingival pockets while taking care of the condition of the gums. The ultrasound-enhanced shock wave loosen the plaque which accumulates on the surface of the tooth enamel to prevent from tartar. Irrigation has never been so effective, pleasant and precise as with the Panasonic EW-1611 Irrigator!
Manufacturer: Panasonic
Exhibitor: HAPPYDENTAL Sp. z o.o.
Product category: Preparations and prophylactic equipment