Dr Gerhard Seeberger in Poland - summary of the visit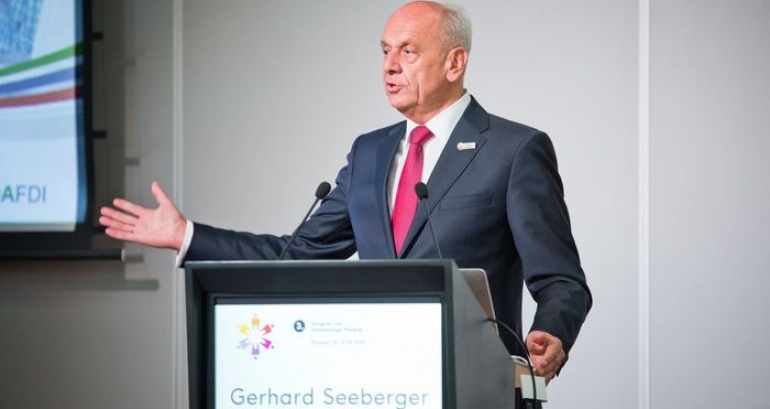 This year's Central European Dental Exhibition CEDE 2019, regularly held every year for 28 years, was undoubtedly an extraordinary event on a national scale. Numerous lectures and practical workshops enriched the atmosphere of exchange of clinical experience between dentists from various regions of Poland, which, combined with the opportunity to hear about the latest technical achievements in dental devices and materials, allowed us to spend 3 days of September in a truly expert group of doctors, sales representatives, but also active dental hygienists and dental assistants, to whom a whole separate panel of the congress was devoted.
The period from 19 to 21 September this year was exceptionally important for Polish dentistry, because the congress was honored by the presence of the newly elected President of the FDI World Dental Federation, Dr. Gerhard K. Seeberger. His visit harmonized with the nature of the majority of congress lectures concerning scientific reliability in making therapeutic decisions. This topic has become extremely hot nowadays. Loads of unprofessional dental knowledge flooded social media as well as mass media and misled society. In recent months, endodontic treatment has gone under fire and Dr. Seeberger is one of the co-authors of the White Paper on Endodontic Care document, in which he opposed the critical and false picture of endodontics that has been spread through society.
The topic of root canal treatment is only a small part of all dental knowledge of course. As a President of the FDI World Dental Federation, Dr. Gerhard K. Seeberger was happy to share his insights on other areas of dentistry that require attention of today's world.
The most important issue concerning overall medicine is the scope of prevention. Referring to the concept of health fields developed by Marc Lalonde, human health depends in 55% on his/her lifestyle. During behind-the-scenes talks about the vision of possible prevention activities, Dr. Seeberger has presented an innovative plan in this area. In his opinion, preventive measures alone are not the key to avoid disease, but the "prophylaxis of prophylaxis" - preventing the need to increase the number of preventive procedures - through a healthy lifestyle and diet. Who chooses wisely and acts positively leaves no chance to the negative! Therefore, health literacy is a concept for a healthy society, and not only for the sick component of it. People can become aware of oral health as a valuable precursor for health and wellbeing only if they are informed and educated properly. This seems to fit perfectly into Lalonde's concept, as it fits to the implementation process and the sustainability of Universal Health Coverage. Only when the trinity dentists - educators - society will remain inseparable for an individuals life span, the situation  of the actually most prevalent disease, untreated caries of permanent teeth, will certainly improve.
Another issue raised by the new FDI President was to compare the access to modern endodontic treatment methods in different countries of the world. As it might be expected, the availability of the latest scientific and technical achievements is not even. However, most interestingly, according to the information provided by President Seeberger, some of the procedures can be performed in difficult environmental conditions with almost the same result compared to those performed in modern clinics of highly developed countries in single root teeth. As an example, Dr. Seeberger gives the so-called BRT method, i.e. Basic Root Canal Treatment, which he also performed on his own during dental mission trips. During the lecture he pointed out that the effectiveness of such a method in relation to the assumption of 100% success of treatment in an advanced clinic, the BRT method can be successful in 90%. These are very optimistic data, especially for less developed countries, which often require the highest degree of dental care.
In the FDI White Paper on Endodontic Care, co-authors Prof. Ove A. Peters and Dr. Gerhard K. Seeberger revisited the indication for tooth extraction. A large number of teeth that are removed, could be successfully kept in the mouth. This is especially significant for teeth with large periapical lesions considered often times untreatable. A correct endodontic procedure allows to keep such teeth in good function or to avoid alveolar bone resorption for many years increasing the comfort of life. This position was in line with the conclusions drawn from presentations and other lectures during the congress.
When it comes to ​​far-reaching plans related to dentistry of the future, Dr. Seeberger has also genuine concepts in this area. They go from ideas of creating truly biodegradable toothbrushes to using natural sustainable resources, available right next to us, such as the Saharan desert sand, just to name one of them. The coming years will be undeniably beneficial for the world of dentistry under the leadership of Dr. Seeberger, and many dental organizations around the world will take part in this wonderful activity.



Hubert Gołąbek DMD, PhD - lecturer of the 3rd Polish Dentistry Union Congress