Exhibitors Catalogue
BEST ORTHO WIRE CO., LTD.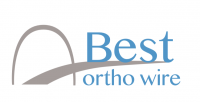 Best Ortho Wire Co.,Ltd specializes in manufacturing various wires for orthodontic use. With years of experience, we provide only high quality wires to meet the highest standard of client's demand.
We produce a full line of wires :
NiTi archwires
Copper NiTi(NiTi-Cu) archwires
TMA(Beta Ti) archwires
Stainless Steel archwires
Aesthetic NiTi arch wires(Teflon coated, white coated)
Aesthetic SS arch wires(Teflon coated, white coated)
Springs

We are direct manufacturer and exporter, we have production capability to supply small and large orders,
And we also specialize in contract manufacturing. Private labelling, customized arch shapes/ wire sizes are available.

Premium quality. Low Minimums. Fast Private Labeling. Great Prices.