Exhibitors Catalogue
Infodent S.r.l.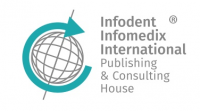 INFODENT SRL has been operating in the dental market for 20 years. Our main product is INFODENT INTERNATIONAL B2B magazine.
We provide customised B2B marketing services and consultancy to help companies in the dental trade and industry find international partners, expand into new markets and promote their brand on an international scale.
Infodent International magazine focuses on international market trends and regulations, new products, information and trade news.
Thanks to its targeted circulation, and supported by its digital products, INFODENT gives your company worldwide visibility and helps you create a network of business relationships. It is an indispensable resource for companies looking for distributors to export their products abroad.