Exhibitors Catalogue
Wydawnictwo CZELEJ Sp. z o.o.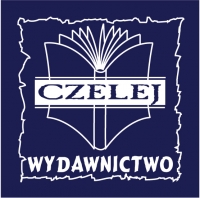 Czelej Sp. z o.o. is publisher of medical books and journals. We have on offer more than 170 books and 5 journals: Magazyn Stomatologiczny, Dermatologia Praktyczna, Neurologia Praktyczna, Gastroenterologia Praktyczna, Przegląd Pediatryczny
• Magazyn Stomatologiczny (Dentystry Magazine)
• Dermatologia Praktyczna (Practical Dermatology)
• Neurologia Praktyczna (Practical Neurology)
• Gastroenterologia Praktyczna (Practical Gastroenterology)
• Przegląd Pediatryczny (Pediatric Review)

Our main field of publishing is dentistry.
Orders for books and journals may be submitted as follows:
• By phone – ring (81) 446 98 11,
• Via Internet – www.czelej.com.pl.

In 2017 the publishing house Czelej celebrated 25th anniversary.