COVID Safety Rules for Exhibitors and Subcontractors During the Dental Expo CEDE 2021.
Entry to the CEDE 2021 exhibition area will be possible upon presentation of both:
- exhibitor's / subcontractor's badge (badges are personalised and non-transferable)
and
- European Union Digital Covid Certificate (EU-DCC).
Presentation of the EU DCC code is voluntary, however failure to show it will not allow participation in the CEDE 2021 exhibition.
This means that the following people will be allowed on the exhibition grounds:
- Fully vaccinated
- With "recovered" status
- With a current negative COVID test result
The above rules apply to Exhibitors and subcontractors (e.g. suppliers or stand builders). The safety of each and every one of us is our top priority, and we believe you will accept these rules with understanding.
Current figures from the Ministry of Health show that of the 44 521 dentists, 95.45% have been vaccinated with one dose and 92% with two (source: www.politykazdrowotna.com). These are data that allow us to plan events for the dental industry with optimism.
CEDE exhibition will be prepared with the greatest caution and in compliance with all COVID-19 safety rules. Yet, in view of the growing number of infections and the currently unforeseeable potential restrictions on participation in trade fair events, we have decided to take this step.
Therefore we kindly ask you to fill in the declaration, a specimen of which is available below and send it to the following e-mail address: info@exactus.pl or hand it over to the Organiser on site before the start of the exhibition or assembly (in the case of the Contractor).
EU Digital Covid Certificate
EU Digital Covid Certificate (EU DCC) is electronic proof that a person:
- has been vaccinated against COVID-19 – has received two doses of vaccination or has taken a single-dose vaccine. The EU DCC is valid from 14 to 365 days after the last dose.
- has had COVID-19 disease (holds a "recovered" status) – in which case the EU DCC is valid from 11 to 180 days after a positive PCR test.
- has a negative COVID-19 test result (antigen or PCR) – certificate is valid for 48 hours.
The certificate is in digital or paper format.
Please find out which app in your country can display the QR-code of the Digital Covid Certificate.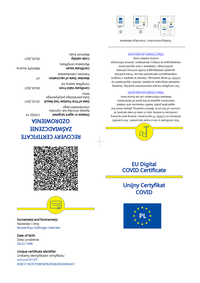 Certificates will be verified by a dedicated mobile application "Covid Certificate Scanner". It enables reading of data from the QR code on the certificate. The data contained in the QR code is only read at the moment of scanning and is not stored or processed in any way by the Organiser. The administrator of the personal data is the Polish Minister of Health.
CEDE participants from non-EU countries, who do not have access to the EU Digital Covid Certificate (EU DCC) but have been vaccinated with an EU-approved vaccine or who have recovered from the virus (at least 28 days and up to 6 months ago) will be granted entry to the fairgrounds on presentation of the same written proof used to enter Poland (https://europa.eu/youreurope/citizens/travel/travel-and-covid/poland/index_en.htm).
Those who entered Poland on the basis of a negative test result must still present proof of a negative Covid-19 test (antigen or PCR test), which is not older than 48 hours.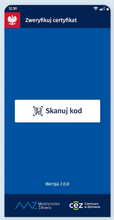 Rules applicable on the Atlas Arena premises during assembly, dismantling and at the CEDE 2021 exhibition.
compliant with current legal regulations, may be subject to modification according to changes in regulations and guidelines of the Chief Sanitary Inspectorate
Persons suffering from COVID-19, infected with SARS-CoV-2 virus, in quarantine or isolation and persons showing symptoms of an infectious disease are not allowed on the premises of the Atlas Arena during assembly, dismantling and during CEDE 2021 exhibition.
All persons present in the event area are required to:
- maintain safe distances (minimum 1.5 metres) between interlocutors, persons standing in queues to entrances, catering points, cloakrooms, lifts, toilets,
- disinfect hands before entering the event area and during the event,
- cover their nose and mouth with a mask,
- be equipped with personal protective equipment such as a mask or disposable gloves.
Notwithstanding the above, Exhibitors are obliged to provide appropriate personal protective equipment for staff (masks, gloves) and disinfectants and, in addition, a visible, easily accessible dispenser for visitors to the stand.
We recommend that you supply your stand with a waste container such as gloves and masks.
The distribution of leaflets and advertising materials is strictly prohibited on the fairgrounds.
It is recommended that materials for Visitors be available only in an online version (e.g. on screens, files transferred online).
A form of non-cash settlement is recommended.
A minimum safety distance of 1.5 m must be maintained. In the case of stand areas where it is not possible to keep a distance of 1.5 m between persons, it is recommended that Exhibitors plan special shields at interview points.
It is recommended to maintain an appropriate distance with persons entering the stand area and to avoid handshaking.
Exhibitors are obliged to train their stand personnel in the principles of sanitary regime and safety during the stay of participants on the Fair grounds.
The contractors and suppliers are obliged, during the assembly and disassembly of the stands, to follow the safety rules in accordance with the currently binding regulations and recommendations of the Chief Sanitary Inspectorate and hygiene safety rules in force during CEDE 2021.
When designing exhibition stands we recommend the use of open spaces, minimising the number of walls and avoiding small social rooms.
We recommend using materials which are easy to disinfect for stand construction (walls, furniture, floors, etc.).
When designing the catering area at the stand, the current recommendations of the Ministry of Health for the catering industry should be followed.
Personal protective equipment is provided by the employer.


Download "COVID Safety Rules" in .pdf file