Advertising for exhibitors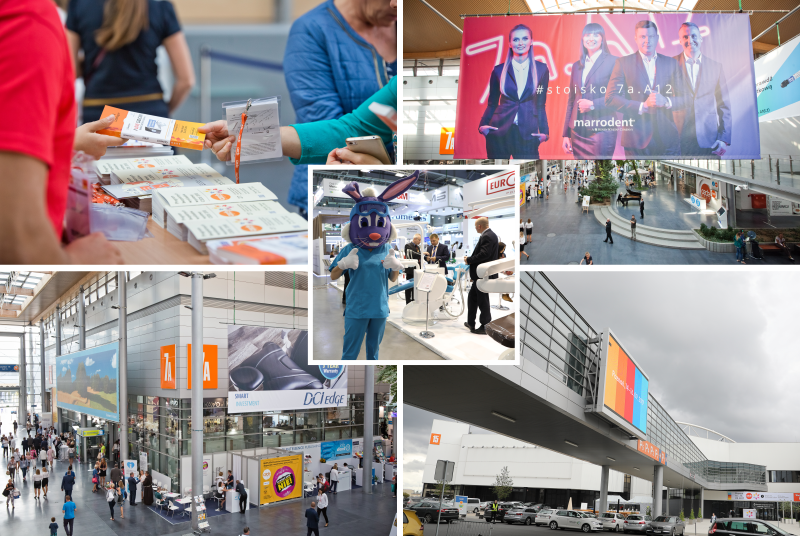 Advertising options
The offer includes promotional activities using various media available for CEDE 2019 exhibitors
Advertising in CEDE 2019 prints

The offer includes adverts in CEDE 2019 prints distributed for free among Congress participants and exhibition visitors.
The circulation: between 2 500 and  18 000 copies.
- Congress Programme / Info
- "Plan your stay at CEDE 2019"- exhibition guidebook
- exhibition catalogue
- Congress programme book
- newspaper CEDENEWS


Advertising in Congress materials
Place your advert in various materials distributed among Congress participants:
- company logotype on the congress bag
- logo on the pages of the CEDE 2019 notepad
- advertising in the pocket programme of the Congress
- inserts to the congress bag
Large size outdoor and indoor advertisement

 The offer includes:
- large size banners in the patio and in the entrances to the exhibition grounds,
- flags,
- individual constructions.
 Multimedia advertising
Advertising spot displayed on LCD screens in the patio between exhibition pavilions.
Advert packages on the interactive exhibition map.
Individual advertising activities - not included in the offer

Please feel free to contact us for any advert inquiries not covered with the standard offer.

How to order?
1. Check the availability of the chosen advert before placing the order.
2. Fill in the appropriate order form in the Exhibitor's Panel:
- form Br - advertising in CEDE prints
- form R - other forms of the advert

How to send the files with the advert?

The files can be sent through WeTransfer to the email: cede@cede.pl or uploaded to the FTP server (max. file size: 50 MB).
Ftp server:
ftp://cede.pl
user: reklama
password: advert

Contact us

Dariusz Sobczak
mobile +48 668 828 838
e-mail: cede@cede.pl
Ewa Jakubcewicz-Tadzik
mobile +48728 404 726
e-mail: cede@cede.pl

Małgorzata Barczak
mobile +48 691 029 764
e-mail: reklama@cede.pl