Entry to the exhibition
Entry to CEDE 2019 exhibition is free of charge for all registered visitors.
Each registered visitor is able to download and print the three days entry card to the Exhibition.
To register each person has to create his own on-line account.
On-site registration will be available at the Western Entrance (from Sniadeckich str.) and Eastern Entrance (from the railway station and Roosevelta str.) of the Poznan International Fairs.


Venue: Poznan International Fair, Pavilions: 7, 7A, 8, 8A.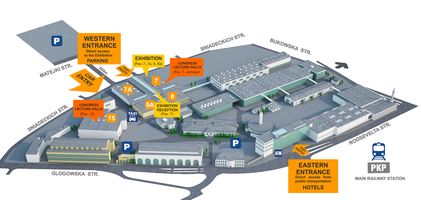 CEDE 2019 exhibition will be open for visitors 
on 19th - 21st September 2019:
| | | |
| --- | --- | --- |
| 20 September |   | 9:00 - 18:00 |
| 21 September |   | 9:00 - 18:00 |
| 22 September |   | 9:00 - 16:00 |
TAXI
Poznańskie Stowarzyszenie Taksówkarzy
ph. +48 61 8 519 519, 1 96 28
order a taxi by SMS: +48509519519